The Best FTM Transgender Online Resources and Centers for 2023
FTM transgender online resources include websites, centers, and companies that provide information, education, and sale and purchase options for FTM Transgender individuals.
In an ever-changing world, the good news is that FTM transgender individuals are gifted with vast educational and research-based resources to help them deal with everyday challenges in their Trans journey.
The cool news is that these resources are steered towards helping FTM transgender individuals and their loved ones through easy access to the internet.
Here is our list to you of the best FTM transgender online resources and centers for 2023 that offer education, product, and service resources to make a haven for FTM transgender including your loved ones.
The Best FTM Transgender Online Resources and Centers for 2023
The primary goal of each agency varies, but they are all ready to assist you in obtaining the information and support you require as a transgender.
Here are some of the online resources and support groups.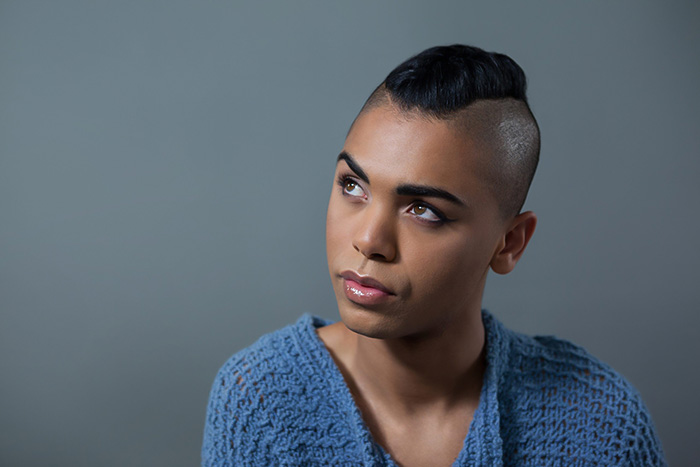 Mentioning transgender resources that help members of this community would be unhelpful if we did not mention its support towards the youth.
For transgender youth, the Trans Youth Equality Foundation will come to the rescue all day, every day.
For youth who have an appeal to understand how advocacy, support, and education can help one transition quickly, the Trans Youth Equality Foundation is the place.
The Transyouth Equality Foundation ranks this list as one of the FTM transgender-to-go sites due to its mission to create a healthy, caring, and safe environment where transgender youth can grow and thrive.
Youth who need guidance as FTM individuals can bank on this resource to help them through their trans journey.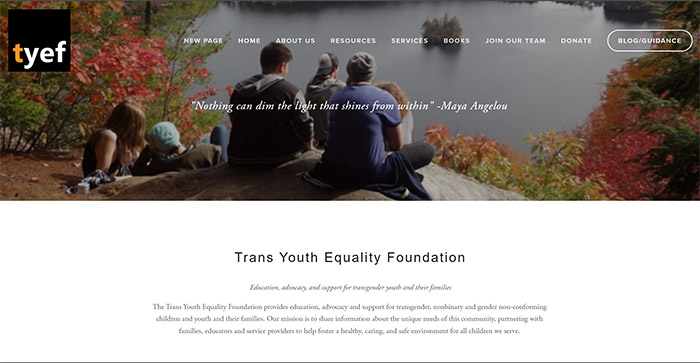 This is a free website created by Andrea James to help Transgender individuals navigate the legal, social, medical, and political components of transitioning.
It has resources like transgender books, podcasts, and advocacy groups for transgender support.
The site is not only for transgender but also straight people can visit the website to support the transgender community.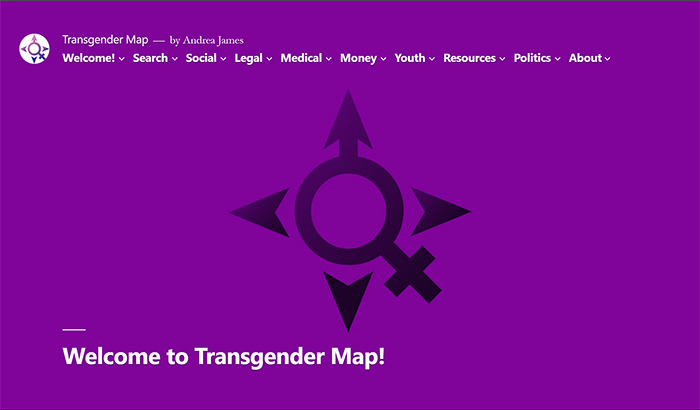 Any FTM transgender will benefit from having a tour of the NCTE website.
NCTE promotes gender equality for the Trans community by highlighting and solving issues related to anti-violence, Tran's community and HIV/AIDS awareness, immigration policies on the trans community, aging, and unemployment.
NCTE pedestals in this list are owing to its help through self-help guides and creating awareness of transgender rights.
If you are looking for an online resource that will revolutionize, educate, and bring you closer to your trans tribe as FTM, NCTE is the place for you.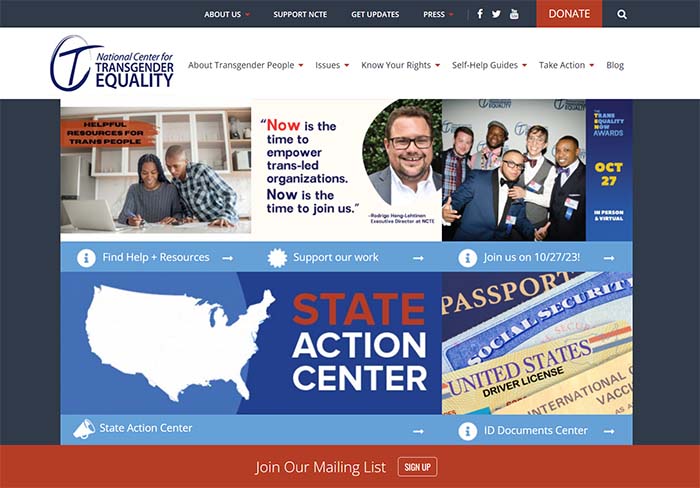 GLAAD is one of the most well-known groups that supports and advocates for transgender youngsters.
In addition to lobbying for LGBTQ+ rights, GLAAD offers a mentorship program that assists queer people in obtaining assistance, support, and mentorship from health experts, care workers, counselors, and community leaders.
GLAAD has been a key advocate for transgender rights, ensuring that every transgender person receives the finest care possible in order to live a healthy life.
If you are looking for an organization that provides comprehensive information concerning Updated Packing, Bathroom, and Packing Hard pages, then Hudson's FTM Resource guide is the place for you.
Hudson created Hudson's FTM resource in 2004 after reading Information vital impact that the book had in expanding and shedding light on issues that FTM and their loved ones faced in the plights of transitioning.
Hudson FTM is not a website to overlook if you are looking for comprehensive and yearly updated information on Testosterone, surgery, presenting male clothes, and resources.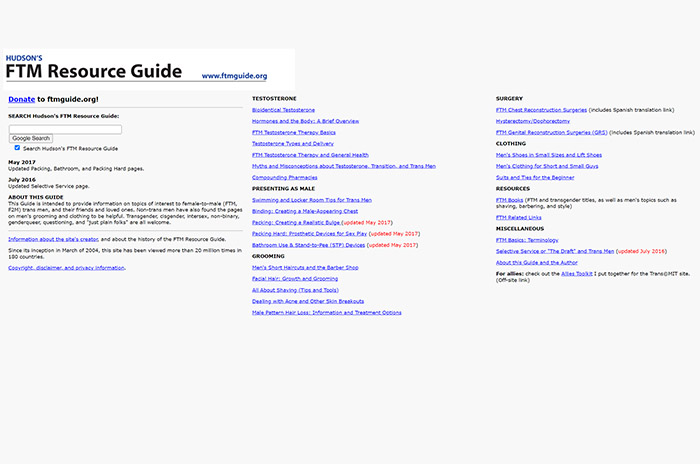 As the name suggests, FTM International has catapulted its image as one of the most helpful online resources for FTM individuals globally.
The site was founded by Lou Sullivan in 1986 when it intentionally began creating its first newsletters concerning FTM issues.
FTM International's goal is to create a community that will support FTM and their families while eyeing the creation of a long-term relationship in the community.
For a website that has an outstanding rapport for being the best in delivering trans news and inventions, the community has grown to other regions, including the United States, China, France, India, Mexico, and South Africa.
If you are looking for a FTM website that will educate you on the progress of the FTM community worldwide while ensuring that this community is visible to everyone globally, spare time and visit FTM international.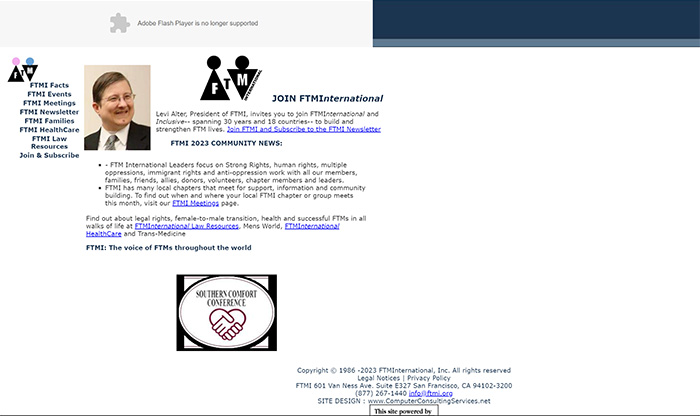 The Trevors Project is a research center that is dedicated to researching issues for transgender individuals.
The company works towards offering crisis services, research, educational imprinting, and advocacy for LGBTQ individuals.
The Trevors project also offers trained counselors to LGBTQ individuals who need help concerning their identity.
Trevor's project makes a particular case in this list by helping FTM individuals because it is one of those resources that will always keep you up-to-date with issues within the community.
An additional merit to it is the professional dedication to disseminating scientifically and anecdotally supported information to the Trans community.
To keep in touch with the latest FTM news and resources concerning mental health, gender identity, and suicide prevention, visit the Trevors project to be part of the team that changes the FTM world through research.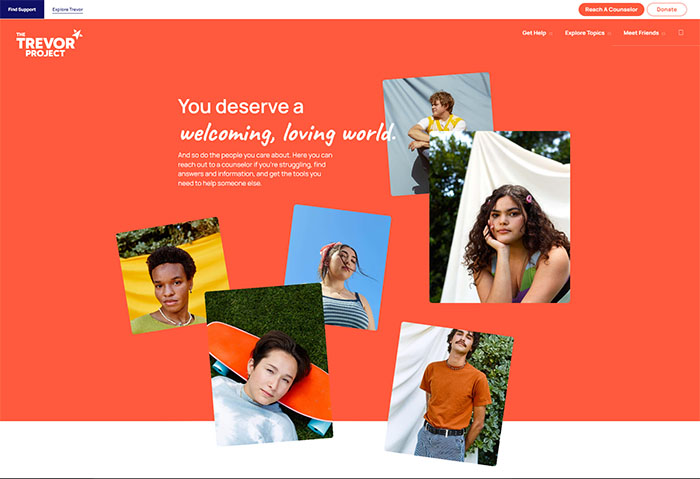 Data indicates that suicide rates for transgender individuals range from 35-50%, making this group one of the most vulnerable to mental health issues.
However, there is a glimmer of hope with the National Suicide Prevention Lifeline, which is purposefully dedicated to preventing suicide.
Also referred to as 988 Lifeline, this online resource can help FTM individuals cope during periods of unrest and look for healthy resources and individuals who can guide them through their mental health challenges.
The website offers various resources for different demographics, including veterans, youth, and loss survivors.
The resources include E-mail peer counseling, crisis intervention and online materials, and information about suicide and help.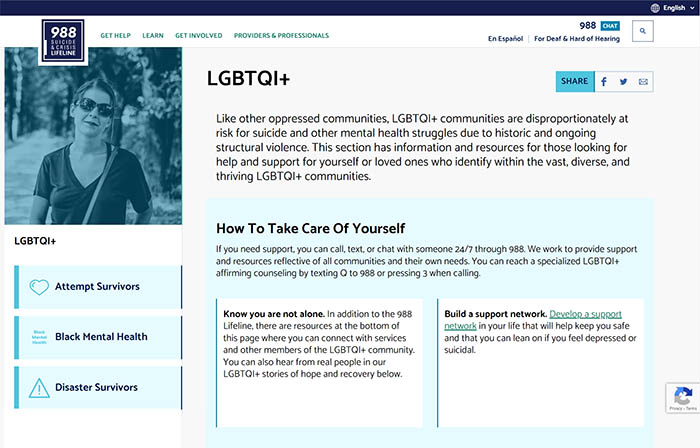 Sheppard Pratt is a private online resource invested in offering compassionate care to FTM and MTF for many years.
First created by Moses Shepherd (1775-1857), the company envisioned creating the Sheppard asylum that would become the most significant mental health facility.
The company has had a knowledge center, crisis, and admission center since its inception in the 1800s, and 2023, it tops the list as one of the best professional websites that FTM individuals can look into if they are looking for a community that works on compassion-based care for identity issues.
From education training, the Sheppard Prat resources have earned their fair share of the appellation for helping mitigate mental health issues for transgender individuals.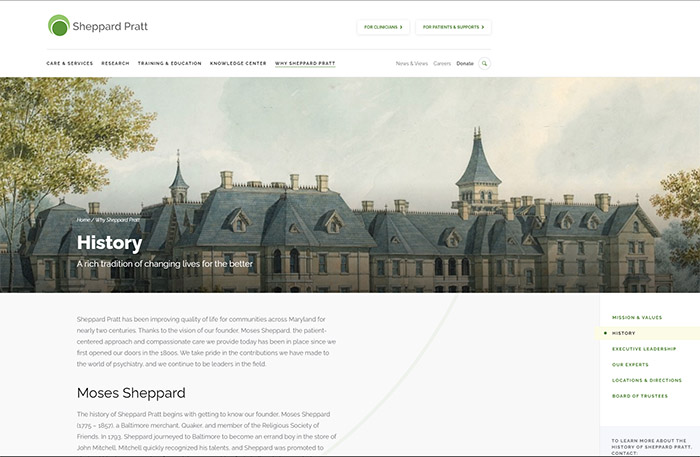 To all FTM-ers, the trans women of the color collective is the group that will ground you to leadership, change enactment, and provide solid solidarity when addressing trans women's issues.
The community shares the lived experiences of people of color as it concerns coming out, hoping to liberate them from oppression.
This resource is essential for FTM who want to delve into the deeper issues afflicting the transgender community.
The website is a valuable recommendation since it advocates for using your voice to bring change to the trans community.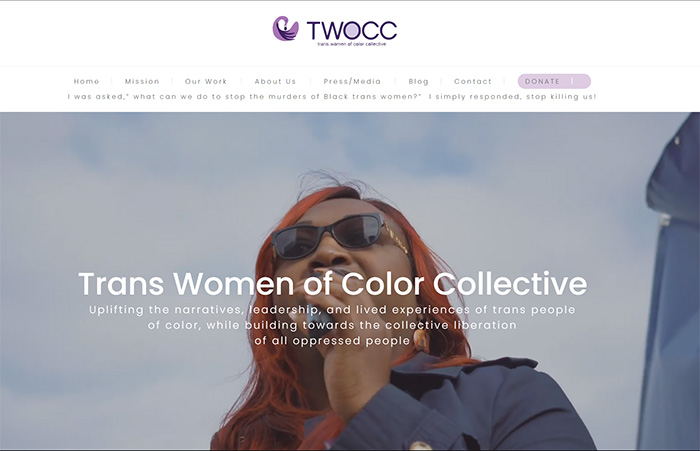 We will all one day grow old and remember the tremendous and healthy steps we took to make the trans community a better place for young folks.
And the Transgender American Veterans Association is one resource that every FTM should know.
From Pennsylvania to Washington, The Transgender American Veterans Association will answer all your questions on gender-affirming surgery and the general community healing that will ensure that the veteran trans community is living healthy and catered for.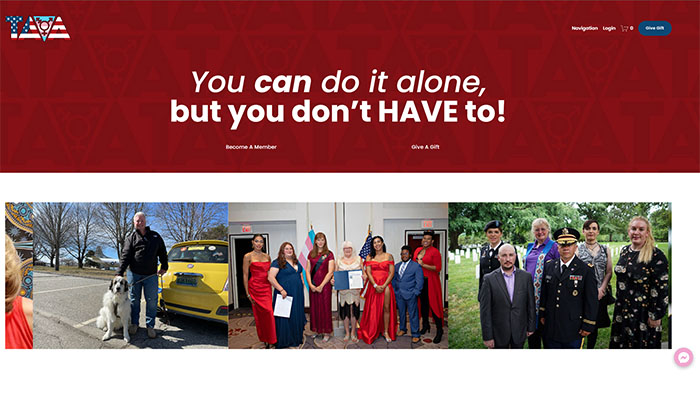 This list would only be complete by mentioning Spectrum Outfitters, dedicated to creating home collections for FTM individuals.
Spectrum Outfitters was first pioneered by Jack when he experienced an injury from using an unsafe binder.
The site offers various educational and counseling units on outfits for transgender individuals, including but not limited to an array of online tools that focus on gifts and accessories.
In their story section, Spectrum Outfitters specifically outlines that their duty, for the most part, is to provide comfortable and quality binders to FTM.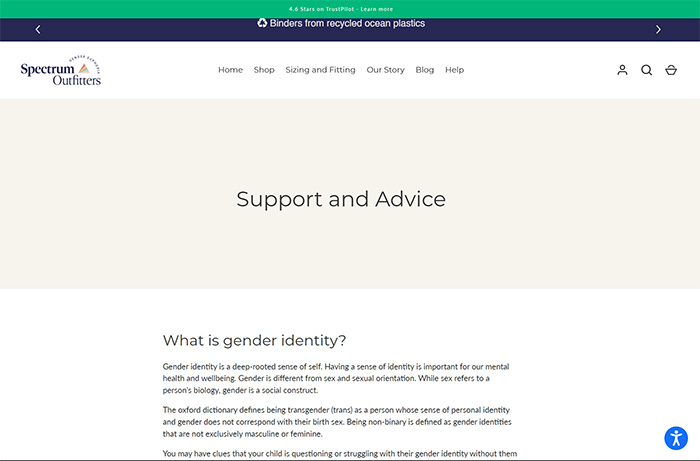 F2M Binders by Underworks is a company that provides transgender individuals (F2M) with products and clothes that support identity.
While it is a company that focuses on the sale of binders, F2M Binders could have noticed our list owing to its charitable donations of binders for F2M individuals across America.
From binding tops to binding suits, the FTM Trans community will benefit from learning and shopping from this resource that exists to serve FTM transgender individuals.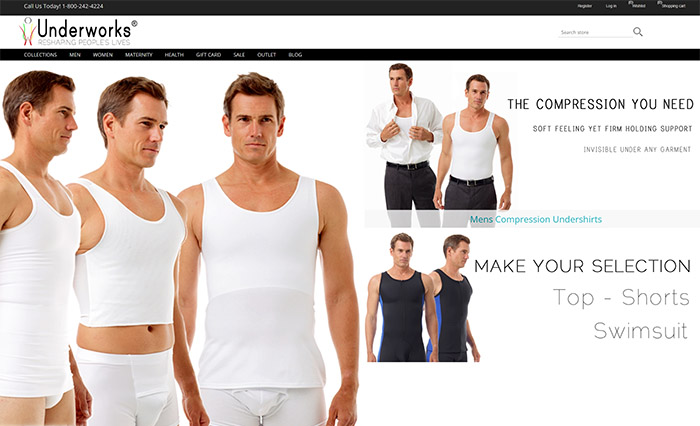 T Kingdom prides itself as one of the most influential online resources for FTM transgender individuals who want to own who they are through style and fashion.
The company, founded in 1999 and had its long-standing footing in the industry, is hallmarked by a grayish-white website profile that illustrates the needs of FTM individuals.
Pioneered by Winson Lo, the CEO asserts that the idea to own a company like this came when she "realized she was a lesbian" and needed products like binders that could allow her to blossom into her true identity.
The company is primarily invested in making clothes for tomboys, FTM. T Kingdom makes it to our list as one of the best online resources for FTM transgender because of its unwavering dedication to creating products that support FTM transgender people in vast sizes and shapes through fashion.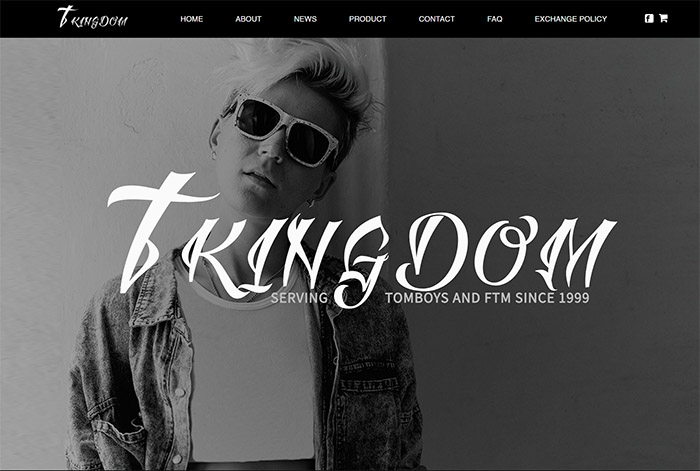 Conclusion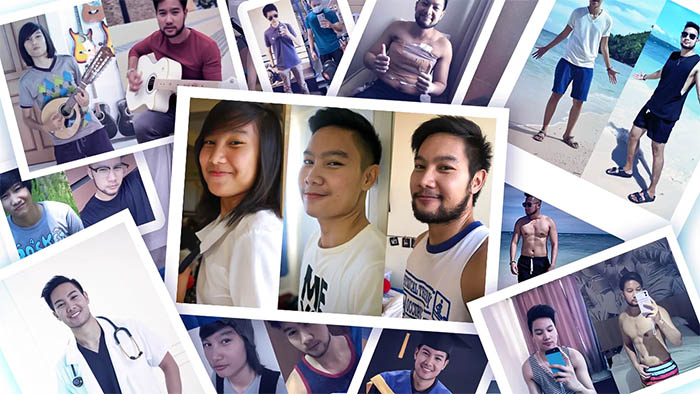 The Trans community has vast online and on-the-ground centers that help grow and keep the community safe for FTM transgender individuals.
The immense gratitude these online resources and centers deserve cannot be downplayed, especially for FTM transgender individuals.
From educational purposes to providing gender-affirming products, these sites have piqued our interest by educating us on what FTM transgender individuals need and do not.
As an FTM transgender individual, you have a right to access valuable information vital to your trans journey through these most heralded resources and centers.